The sequel to the popular original TowerMadness was recently released and the Official TowerMadness 2 Wiki comes to you with our new partnership with Limbic Software! Available now from the iTunes App Store and the Google Play Store, TowerMadness 2 is available for both iOS and Android mobile devices. To improve your 3-D tower defense experience and a console-like feel, game controller support is also available for TowerMadness 2! In addition, Limbic offers regular updates based on community feedback.
Save your sheep from being turned into sweaters for an evil alien emperor! It is up to you to guard your flock and protect your farm through each of the 40+ maps offered. Over sixteen different alien mobs to master -- each has their own specific abilities and weaknesses. So far, four campaigns are available to play through experiencing your favorite TowerMadness defense towers, with new ones to experiment with. Even better, you get to use the very technology the aliens have against them!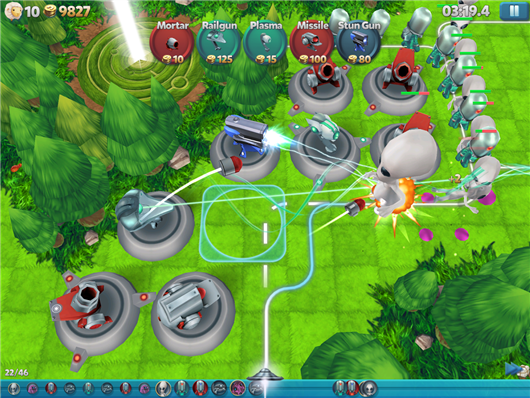 Need more information about campaigns, enemies, maps and TowerMadness 2 characters? The official wiki is a great place for the community to find and share what is known! Find out something that isn't in the wiki? Becoming a contributor is super easy and the community is encouraged to participate. Even community tools like the Help Wiki is built on crowd sourced information! Check it out to see how you can get started as a contributor.