Greetings Gamepedians! We hope that everyone is having a great start to their holiday season as the year comes to a close. To help keep your spirits bright, Gamepedia has teamed up with J!NX to bring you a very special holiday giveaway!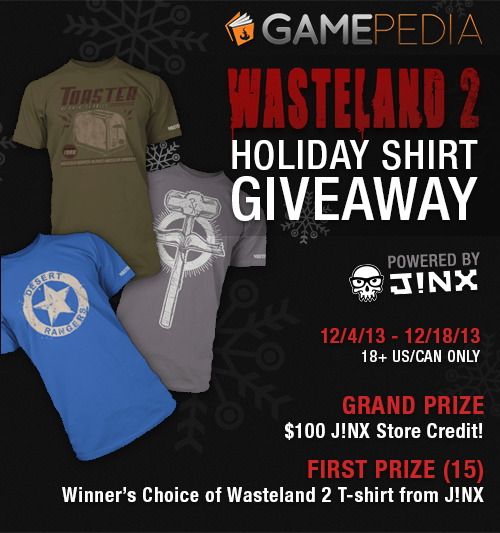 Fifteen lucky winners will be able to take home their choice of J!NX's brand new Wasteland 2 shirts for themselves (or as a present for that special gamer friend in your life!). One lucky winner will also receive a $100 gift card to the J!NX store, which is pretty much the perfect accompaniment to the J!NX 2013 Holiday Gift Guide, which also includes free shipping on orders of $75 or more and other great discounts!
To enter this giveaway, just navigate to the contest page while logged in to Gamepedia and submit your entry today! Also, don't forget to check out the Official Wasteland 2 Wiki, Forums and Wasteland 2 Guru for all your Wastelands 2 needs!