Week 4 of the Overwatch League occupies the sticky space of being both strategically important while also being statistically abysmal. Eight of this week's 12 games were 4-0 blowouts, compared to Week 3's measly two. This is also the week where we're starting to look beyond the present and into the long game, namely who's going to the Stage 1 Title Matches in Week 5? Players are now playing against their opponents and against the stats to secure a top three spot and a shot at the $125,000 prize pool.
So where do our teams stand going into the last week of Stage 1? Let's find out.
Week 4 Day 1

Match of the Day
???
With nearly all the matches this week decided well in advance of the final map, it's hard to choose an exciting match of the day to highlight. I'm sad Philadelphia didn't put up as much of a fight against Valiant as predicted. The Gladiators performed as expected (while the Mayhem didn't...as expected.) Same with Houston and San Francisco. It's esports y'all, and just like physical sports, it's not every day there are going to be knock down, drag out, thrill of victory and agony of defeat kind of matches. This was one of those days.
Week 4 Day 2

Match of the Day
London Spitfire vs. Seoul Dynasty
This game went 4-0 like every other game today. While that doesn't sound like something fun to watch, remember map scores don't tell you anything about points. Seeing a score like 4-0 doesn't quite give you the whole picture. You don't know how many points the losing team took from the winning one, for example, which paints a far better picture of how well the losing team fought against their inevitable demise.
Here's the point break down of London vs. Seoul: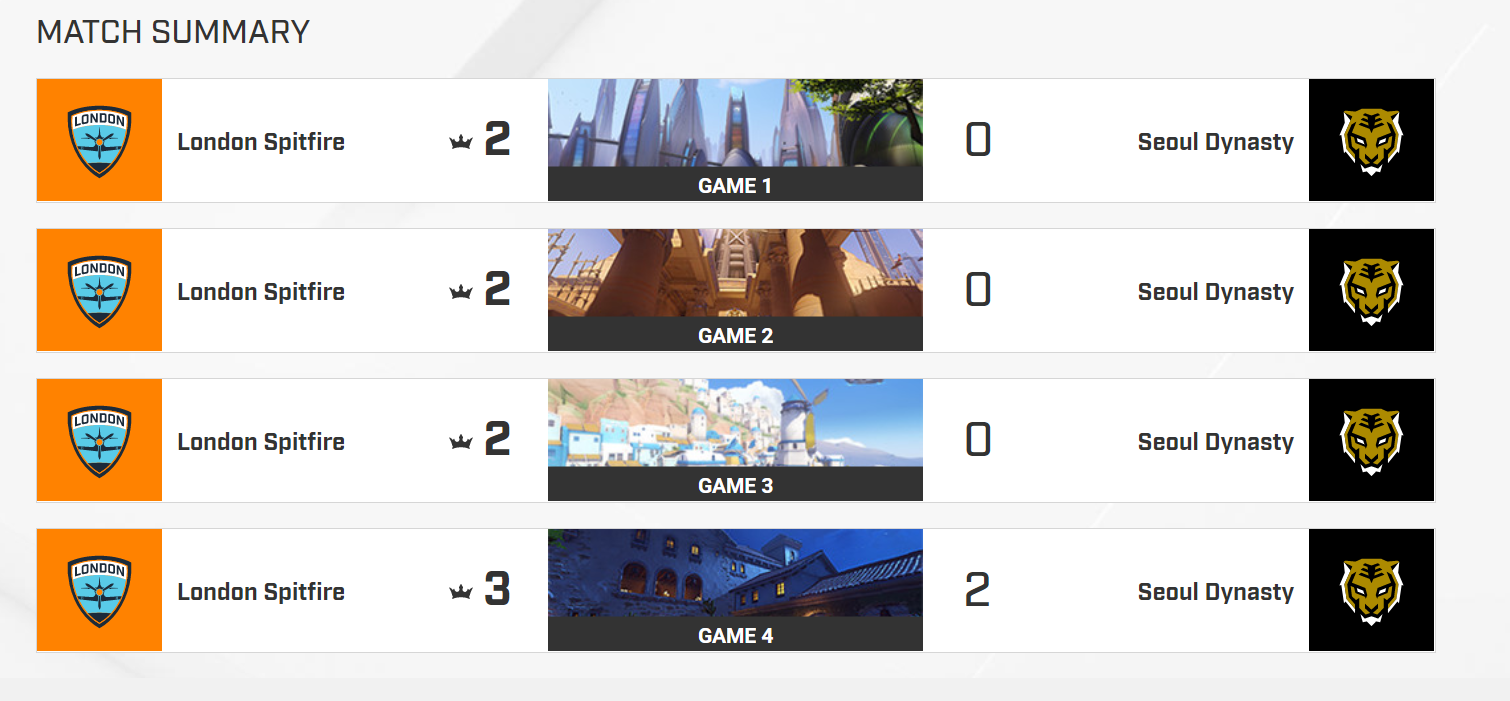 They didn't fight that hard against their inevitable demise.
Week 4 Day 3

Match of the Day
Seoul Dynasty vs. Houston Outlaws
This match lasted forever and it was worth every second of sleep deprivation I endured to watch it. Seoul is currently on the razor's edge of falling out of the top three while Houston is right there, waiting to take that place. Houston loses this match, but only just. They have to win their matches in Week 5 against Boston and ….London...while Seoul has to lose both of their matches if we're going to see any Stage 1 Finals upset.
Week 4 Day 4

Match of the Day
Dallas Fuel vs. New York Excelsior
This was another tough match to watch. Dallas is still struggling to find their footing, and you really can't struggle with anything if you want to take down New York, but during this match they had a chance. They went to extra rounds on Anubis and woke up just in time on Oasis to prevent a loss.

But in the end, they still lost.
As heartbreaking as this was, because you could see Dallas reallying fighting to stay alive and take the match to a Tiebreaker, that's not why I chose this match as the game of the day.
I chose this match for what happened after the game, because not all plays of the game happen on the stage: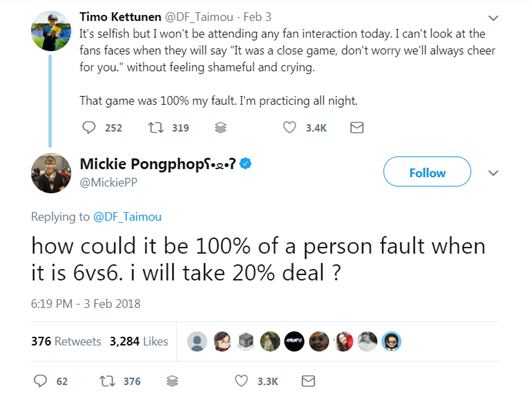 Top tweet is Taimou, the Dallas team captain, the response comes from his teammate Mickie, flex DPS and D.Va extraordinaire. This is good sportsmanship, good teamwork, and supportive friendship. This is everything you could ask for out of a team, even a losing one. This is beautiful and gives me hope that Dallas (and SHANGHAI) despite their setbacks are still giving us the best (and HEALTHIEST) Overwatch they can give. And that's really all we can ask for. #BurnBlue Dallas, Burn Blue.
Final Thoughts
Week 5 brings us into the Stage 1 Finals. I'm confident both London and New York will be there. What will be interesting, given their first match against each other will also take place during regular play, is who will get the bye. London has to play an on fire Houston team and win to stay in the top spot. New York has far less work to do against the Mayhem to maintain their current rank. If both teams win, when they face each other, the winner of that bloodbath gets the number 1 spot and an automatic bye into the Stage 1 Grand Finals match. The loser will have to duke it out with third place who could be any of the following: Seoul, Houston, LAV, Boston, or Philadelphia.
But let's be real here, it'll probably be Seoul.
Who do you think will make it into the Stage 1 Finals? Or do you think it's all irrelevant now that Geguri is here to take the Shanghai Dragons to Overwatch League glory? Sound off below and as always, peep the wiki for even more Overwatch goodness.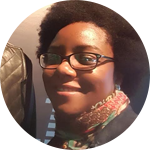 Ashley Parrish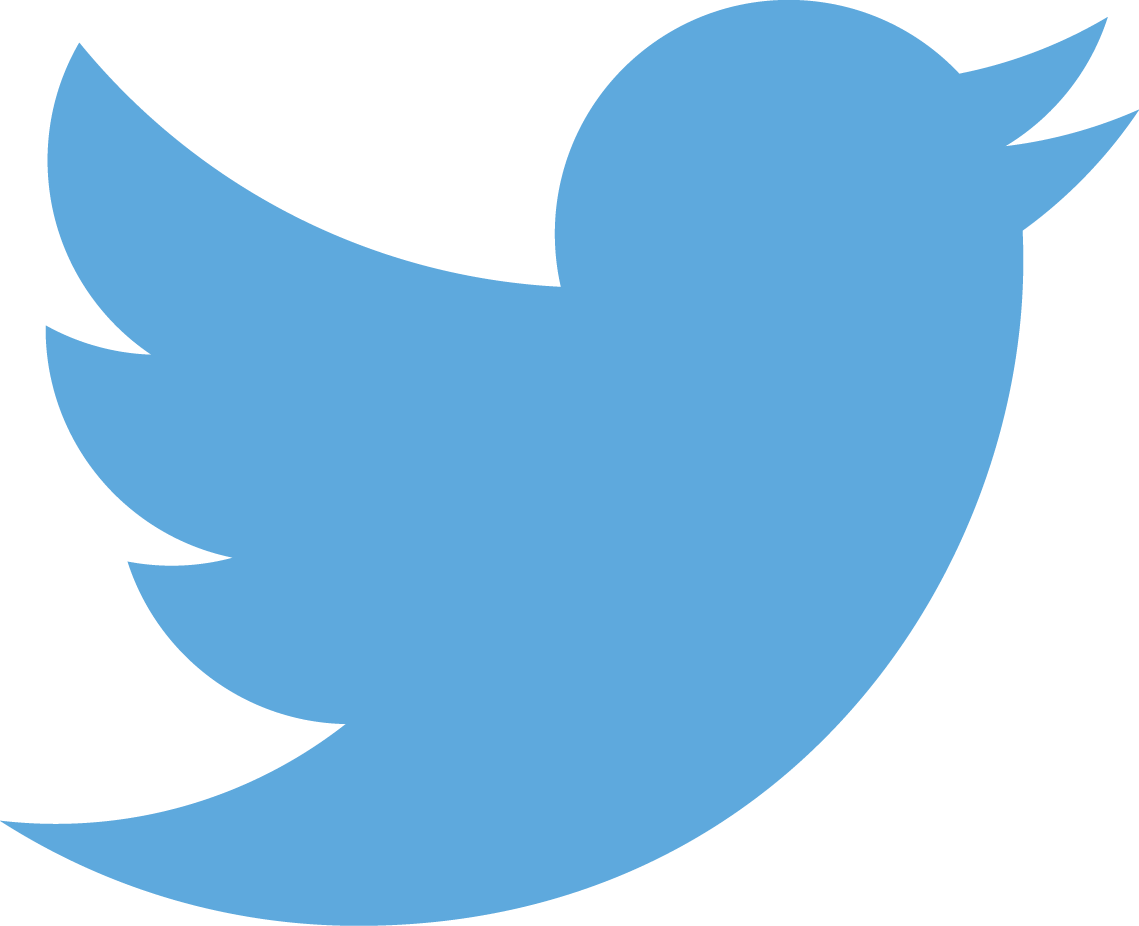 @tokenblackchick
Ash is a part-time writer/full-time gamer and has managed to successfully combine the two hobbies into one profession. She enjoys RPGs of all stripes and dreams of being a competitive Triple Triad player.
---
What to Read Next