After five weeks and 60 matches, Stage 1 of the Overwatch League is over. It concluded with a finals that was over 10 hours (10 HOURS!!) of hair pulling, heart stopping, and heart breaking action I still haven't recovered from.
It's very hard to pick and choose which matches to spotlight this week as:
1) They're all worthy of attention and
2) We've been told time and time again every match matters
With that in mind, these are the matches that mattered during the lead up to the Stage 1 Finals in week 5.
Week 5 Day 1

Match of the Day
Los Angeles Valiant vs. Seoul Dynasty
The Valiant were pinning their finals hopes on this match while the Dynasty were looking to reclaim some of their lost glory after a devastating 4-0 from London. Nobody expected for LA to pull off a massive sweep. Fans didn't, analysts didn't, I didn't.
Week 5 Day 2

Match(es) of the Day
Philadelphia Fusion vs Boston Uprising
Houston Outlaws vs London Spitfire
Major implications for finals seeding began here. Yes, they began on Day 1 too, but these matches are where the rankings started to solidify for the finals later in the week. Boston swept Philadelphia giving them their fifth victory in a row and putting them within striking distance of a finals berth. Houston, in the second major upset of the week, grounded the Spitfire, earning them the coveted 3rd spot (1 and 2 being occupied by New York and London) and a place in the Stage 1 finals....for now.
Week 5 Day 3

Match(es) of the Day
Seoul Dynasty vs San Francisco Shock
Los Angeles Valiant vs Shanghai Dragons
Here's where it gets interesting....and mathy...too mathy if you ask me. If you did the math, it determined that for Seoul to stay alive and make it to the finals they needed to 4-0 the Shock. That didn't seem too hard considering that for the first three weeks of the League, Seoul were the kings of Overwatch. All they needed to do was 4-0 a middling team to secure their spot in the finals. Here's their match against San Francisco: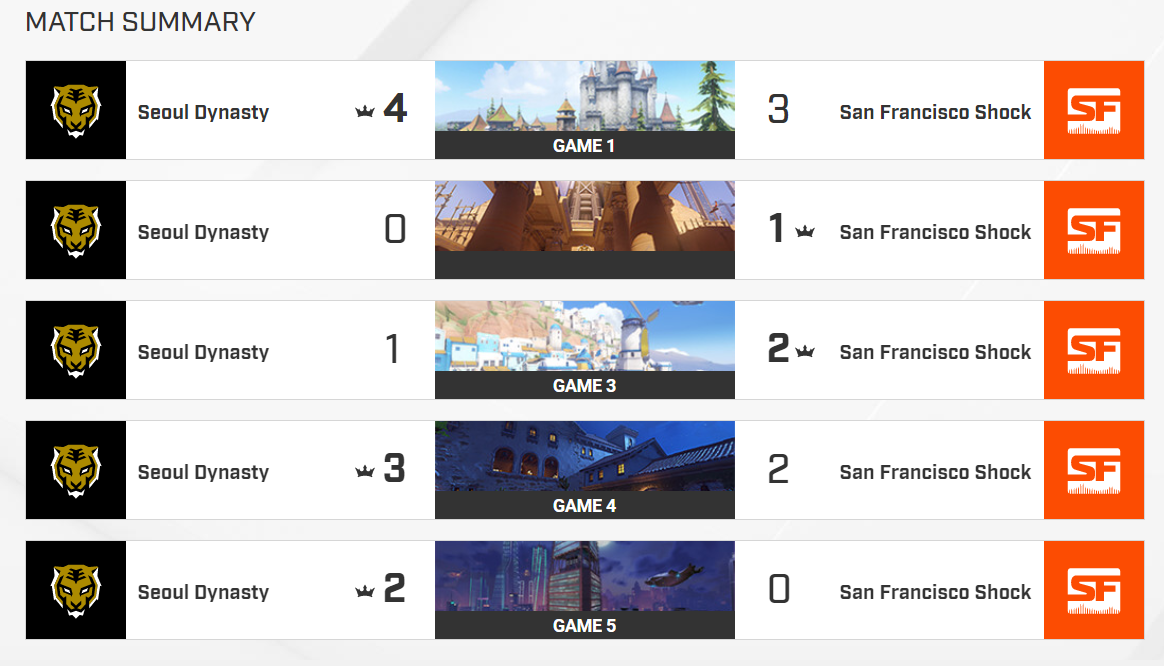 Just like that, they're done. San Francisco didn't win the match but they spoiled their opponent's chance in yet another upset. Shock the world indeed.
For the Valiant to remain in the running, they needed to 4-0 Shanghai, and I was really hoping for another upset in this week of upsets. All Shanghai had to do was take a map from LA. In in their match against Dallas earlier in the week and their match against Seoul in Week 3, the Dragons have proven they can have a bit of fire in them. Unfortunately, I didn't get my upset and their loss to the Valiant put the second best non-Korean team in the weirdest of finals positions which we'll get to later.
Week 5 Day 4

The top three teams that earn a spot in the Stage Finals are determined by win/loss record and, in cases of a tie, map differential. A map differential is basically the number of maps within a match a team won. For example, a team with a 7-2 record who won 20 maps will be ranked higher than a team with a 7-2 record that only won 17. The rankings on Day 4 began like this:
New York Excelsior
London Spitfire
Houston Outlaws
Boston Uprising
Los Angeles Valiant
The number one team gets an automatic bye into the final match worth $100,000. New York, no matter how they played, was going to make it into the finals. What mattered was if they or their second place opponents, the Spitfire, were going to get the bye and a sorely needed chance to rest as the day's games started at 2 p.m. EST and didn't end until after midnight!
New York and London went five rounds in some the greatest Overwatch ever played. New York won out 3-2, kept their number 1 spot, and got the bye into the final round.

Next up was Houston vs Boston, that was also a match between LA and Boston and LA and Houston. Remember all that math I was talking about? Here's where it, and every single match, mattered. For Boston to make it into the finals they needed to beat Houston. But simply winning wasn't going to be enough. Boston needed to win by at least two (so a score of 3-1, 3-0, or 4-0) in order to earn the third spot. If they won 3-2, their map differential wouldn't be enough to beat Los Angeles who would, even though Boston won the match, take their place as 3rd. Imagine winning but losing. That's what Boston faced.
Houston, however, ended up winning the match 3-2, upsetting all my math work and the entire state of Massachusetts.
The Finals

Houston Outlaws vs London Spitfire
There is a reason when New York was asked who they would rather face in the finals, they said Boston. I believe it's because they were afraid of Houston. And they had every right to be. Houston, however, despite a grueling upset against Seoul to secure their rank and their chance and an equally demanding match against Boston earlier in the week, lost to the London Spitfire 3-1. They were hurt and I was hurt with them, but they solidified their place in the League as a team to respect and fear.
London Spitfire vs New York Excelsior
These teams played each other for the first time on this same day nine hours earlier. London lost that match, sending them to second place to battle it out against Houston before returning to face New York again. I could barely see straight by the time this match started, but when it did, it commanded my full attention.
London lost the first two maps and I really believed it was fatigue getting the better of them. By that time, they had played 25 map matches against the best teams in the League for longer than a standard 8 hour work day. I had no favorites to win, but I believed there was no way a team that had been playing as long as London had against opponents as tough as theirs could go against a rested New York squad.
But London proved me wrong.
In only the third reverse sweep in League history, young as it is, the Spitfire took off against the Excelsior and beat them 3 games to 2. The London Spitfire are the Stage 1 Champions of the Overwatch League.

But the best part about the whole match came after. Enemy Mercy players: ArK from the NYXL and Nus from the Spitfire traded jerseys before London took their place on the winner's stage, putting a cherry on top of a Tracer shaped cake covered in cherries.
The League will take a break for a week before Stage 2 starts on February 21st. We'll see some fundamental changes in the League with the new Mercy and Junkrat patches going live in addition to the roster shakeups that are happening right now. How do you think the League will change with Stage 2? And what was your favorite moment from Stage 1? Let me know and be sure to keep an eye on the Overwatch Wiki for more news and updates.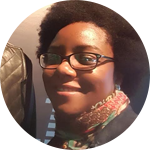 Ashley Parrish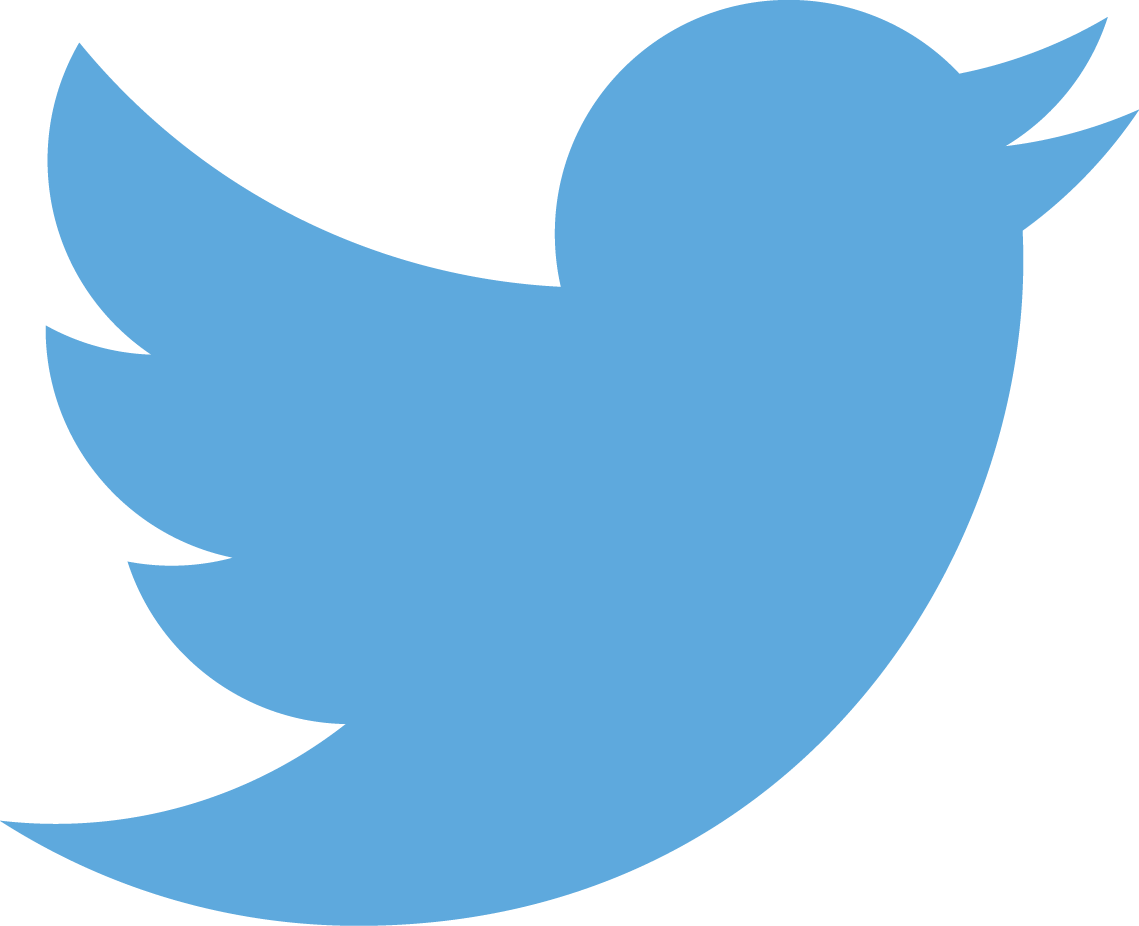 @tokenblackchick
Ash is a part-time writer/full-time gamer and has managed to successfully combine the two hobbies into one profession. She enjoys RPGs of all stripes and dreams of being a competitive Triple Triad player.
---
What to Read Next