Chroma Squad, which will have its official wiki hosted at Gamepedia, has less than 48 hours left for its Kickstarter campaign! Time is running out to be a backer for this old school pixel art game, where you and your fellow stuntmen decide to start your own sentai TV studio. As a manager, you hire on crews, buy gear and create your own special effects! Chroma Squad is also working on Steam Greenlight.
Starting at one dollar, you can have your name immortalized in the game's credits! For $15, you can own a digital copy of the game for Linux, Mac or Windows (with other platform support slated for the future)! There are a few collector's edition versions, starting at $50. There are even options to become a super hero or villain in Chroma Squad!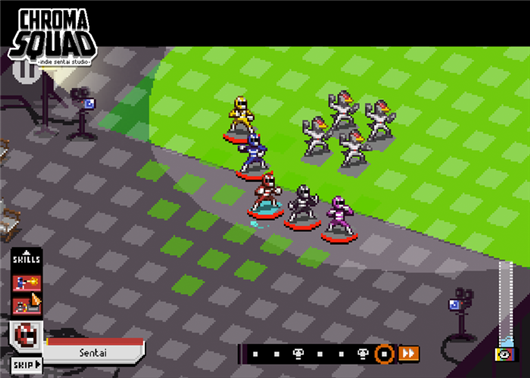 Behold Studios, the developers behind Knights of Pen & Paper, have been working hard to bring their newest idea to reality. For single and multiplayer modes, Chroma Squad offers a playable story with multiple endings. Record episodes and complete seasons! Each episode has its own dialog, turn based combat and cinematics. One of the stretch goals includes an episode editor.
Show your interest in Chroma Squad by helping them become Greenlit, check out their Kickstarter campaign and keep an eye out here on Gamepedia, for when the official wiki launches!