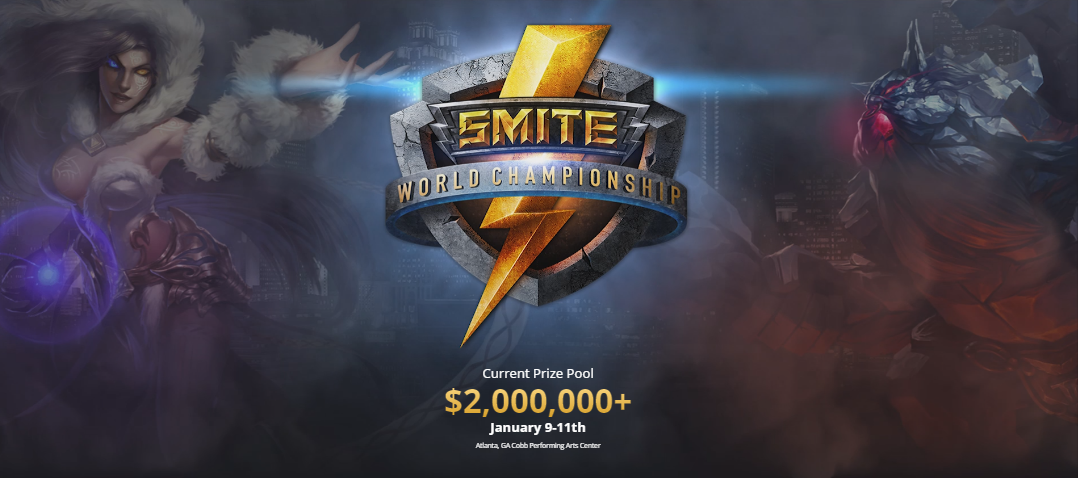 The SMITE World Championship, powered by Curse Voice, is less than two weeks away, and eight talented teams are preparing to battle for one of the largest prize pools in eSports history. The championship will take place January 9th through the 11th at the Cobb Performing Arts Center in Atlanta, GA. In celebration of this event, Curse is excited to hosts several SMITE contests, including skin and gem giveaways.
Over 2.4 million dollars have been generated through the crowd funding initiative SMITE Odyssey, which allows players to contribute to the prize pool through in game purchases. For a complete breakdown of how the prize money will be distributed, click here.
| | | | |
| --- | --- | --- | --- |
| Cognitive Red | Cognitive Prime | TITAN | SK Gaming |
| Oh My God | DID | Name Not Found | We Love Bacon |

The eight teams competing in championship will spend three days fighting one another for a chance to become the SMITE World Champion. There are two teams from North America, Cognitive Red and Cognitive Prime, two teams from Europe, Titan and SK Gaming, two teams from China, Oh My God and DID, and two teams from Latin America and Brazil, Name Not Found and We Love Bacon. The teams will compete in three stages during the championship: the Placement stage, the Knockout stage, and the Finals. To view the brackets, click here.

In honor of this momentous event, Curse is hosting a handful of fantastic SMITE Giveaways. The first giveaway, which starts today, will give one lucky grand prize winner a rate Artemis skin from 2012's PAX Prime convention and 8,000 gems. Five winners will receive 8,000 gems, and ten will receive 2,500 gems. The contest runs through January 5th, and you can easily enter by clicking here. Be on the lookout for additional giveaways in the near future!

Think you can perfectly predict the outcome of the SMITE World Championship? Choose your picks, and you could win $10,000 or a share of 2,550 SMITE gem codes! Click here to enter the contest. The Perfect Bracket Contest ends on January 9th.
If you're interested in attending this event, there are still a few passes available. The Legendary and Golden passes are completely sold out, but a limited number of Standard passes still remain. For more information on passes, click here. If you can't make it to Atlanta, GA for the championship, you'll still be able to view the event live on Twitch. There are also Digital passes available that include subscriber only chat and exclusive skins.
Visit Curse Voice's SWC page to learn more about the road to the championship, SMITE Giveaways, and more. If you're interested in learning more about SMITE, visit the Official Wiki for all of your game-related needs.