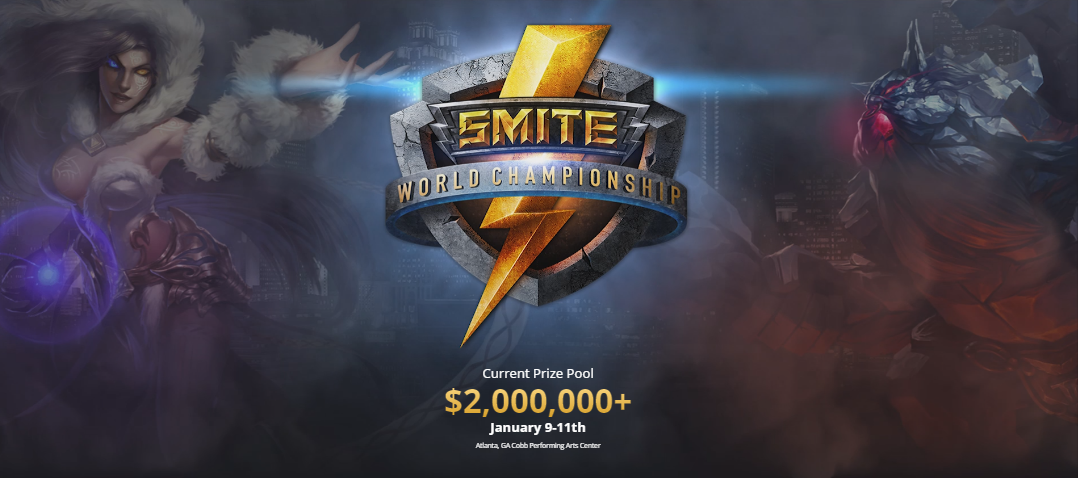 The SMITE World Championship, powered by Curse Voice, begins this Friday, January 9th, in Atlanta, GA. Eight of the best teams from around the globe are coming together to battle for cash prizes and the title of SMITE World Champion. The prize pool has reached over 2.5 million dollars in the last few weeks, making it one of the largest in eSports history. In celebration of this momentous event, we're hosting several SMITE contests and giveaways, including skin giveaways and perfect bracket contests.
The championship is taking place at the Cobb Performing Arts Center in Atlanta, GA. For those lucky enough to live in the Atlanta area, there are still a few passes left to purchase here. Not only does the Standard Pass include access to all three days of the championship, but you'll receive awesome SMITE swag including in-game skins and merch. If you can't attend in person, you can still watch the event live on the Official Stream, and Digital Passes are available as well.

If you missed the first Gem & Skin Giveaway, don't fret! We're doing another easy-to-enter contest that features some amazing prizes, including:
1 Grand Prize: Guan Yu + Alienware RA Skin + 8,000 Gems
5 First Prizes: 8,000 Gems
10 Second Prizes: 2,500 Gems
Enter this giveaway here – and hurry! The contest ends on January 12th.

Think you can perfectly predict who will win the SMITE World Championship? Here's your chance to prove it! Enter our Perfect Bracket Contest now for a chance to win $10,000 or a share of 2,550 SMITE gem codes! Your predictions must be submitted by January 9th.
Enter the Perfect Bracket Contest here.
Stop by Curse Voice's SWC page to receive information on the championship, SMITE Giveaways, and more. The Official SMITE Wiki is also a great source for all of your game-related questions.