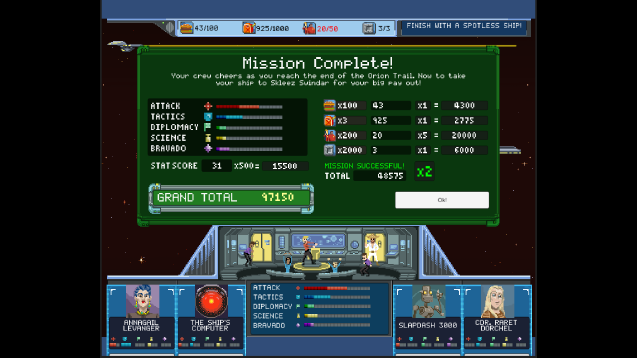 Lead your space vessel through dangerous and unpredictable terrain in Orion Trail, an upcoming title from Schell Games. In a humorous mixture of Oregon Trail and Star Trek, you'll play as the captain of the Indestructible II. It's your task to lead your officers, crew, and entire ship through the deepest corners of space. After being Greenlit on Steam, the game's Kickstarter campaign is now in full swing. The developers hope to raise $90,000 before the campaign ends on March 12. To learn more, visit the Official Orion Trail Wiki on Gamepedia.
In Orion Trail, the chances of your voyage succeeding are highly dependent on the decisions you make as captain. How will you handle the warp weasels that have infested your ship? When a mysterious illness plagues your crew members, will you panic in fear or keep a level head? There are over fifty unique encounters in the game, and you'll need all your wisdom, decisiveness, and sheer luck to lead your crew to safety. Additional game features include:
Resource management - Keep an eye on your food, fuel, hull, and red shirts
Unique strengths and encounters - Crew members, equipment, and captains can all affect your game in very different ways
Away missions - It's always a risk to send your crew away on a dangerous quest - but think of the rewards!
Amazing art and music - The game boasts fun pixel graphics and original songs from Rainbow Kitten
If you're interested in trying out Orion Trail for yourself, a playable prototype of the game is available for download on Windows, Mac, and Linux. To get a closer look at the game, check out the Kickstarter trailer below.
The backer-exclusive gifts in Orion Trail's Kickstarter campaign include early access, shirts, and the ability to appear in the game yourself. To receive the latest Orion Trail news, follow the developers on both Facebook and Twitter. And remember - The Official Orion Trail Wiki is a fantastic resource for learning more about various game elements and discovering the best way to lead your crew to victory. It may make the difference between you becoming the most revered, honorable captain in the entire galaxy or suffering a painful and untimely death from space dysentery.