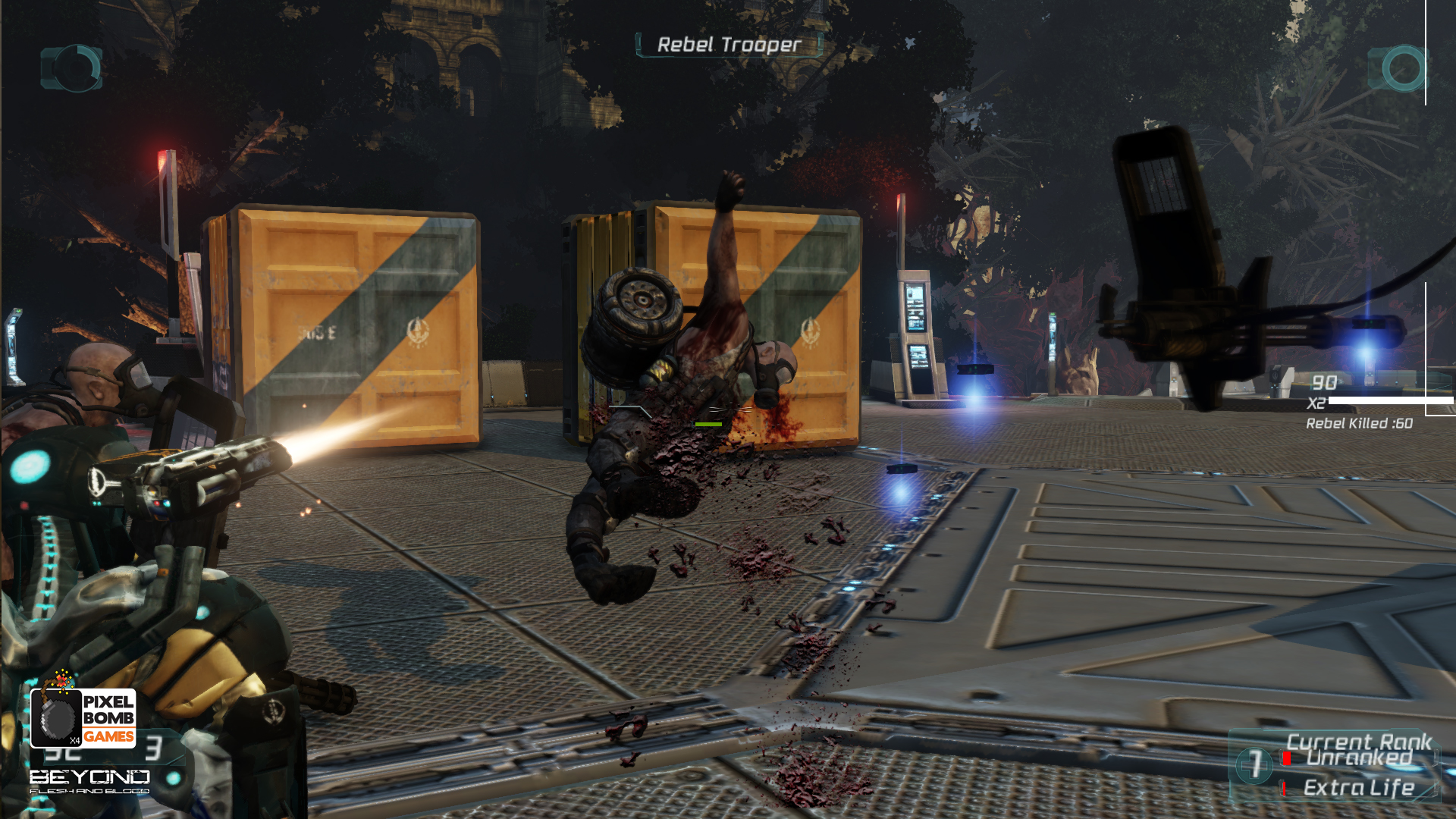 In the year 2281, a dystopian Earth is in ruins, and society is plagued by political instability and chaos. You'll face the horrors of this world and encounter sci-fi gore in Beyond Flesh and Blood, an upcoming story-driven shooter from PixelBomb Games. The title has been Greelit on Steam, and a pre-alpha demo is available now on the game's website. Gamepedia has partnered with the game's developers to proudly present the Official Beyond Flesh and Blood Wiki, a growing resource for learning more about the game.
After a global war, society now lives in The Tree of Life, an orbital station in Earth's atmosphere – but not everyone is on board. There are still rogue scavengers on the planet's surface, barely surviving on the hostile terrain. When a meteorite collides with Earth, the society in The Tree of Life is cut off from the scavengers below. In Beyond Flesh and Blood, your mission is to take control of a Tactical Combat Frame and restore contact with the orbital population. Unfortunately, the meteorite brought with it an unthinkable threat, and the path to victory is no easy feat.
You'll battle your way through gore-filled levels and plunge into an urban warzone, a reimagined Manchester with a post-apocalyptic landscape. The game focuses on visual atmosphere and tactical gameplay. You'll be able to fully explore the game's narrative themes that enrich the shooter experience. Beyond Flesh and Blood is currently stated to release on PC and Xbox Live, but more platforms are planned to be added.
If you'd like to learn more about Beyond Flesh and Blood or contribute your own game knowledge, visit the Official Wiki on Gamepedia. You can also follow the game on Facebook and Twitter to stay up-to-date on the latest news. If you're interested in trying out the title for yourself, you can download the demo right now on their website.
---
What to Read Next