Beginning today at 1:00 PM EDT, the Smite Pro League Summer Finals will start, and the action will be available for viewing on Twitch and YouTube. The six teams from North America and Europe will compete for a prize pool of over $170,000. You can learn more about the event on the SMITEpedia.
These Finals will determine which teams qualify to participate in the prestigious World Championship. The Quarterfinals take place today, while the Semifinals are tomorrow and the Grand Finals are Sunday. All three of the finals are the best-of-five, but the fifth place match is best-of-one and the third place match is best-of-three. View the event bracket below for date and time information.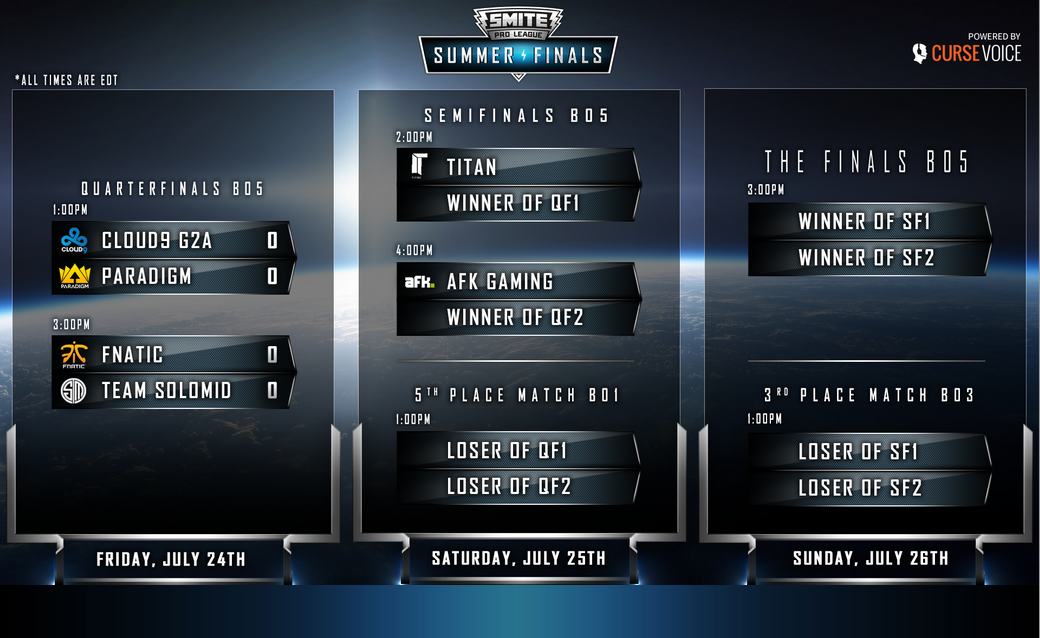 The North American teams competing in the competition are Cloud9, Team SoloMid, and AFK Gaming. The European teams are PARADIGM, Titan, and FNATIC. The TSM vs FNATIC match-up is happening today at 3:00 PM EDT, and the gaming world is ablaze with anticipation.
Learn more about the event on the HiRez's Official page and the SMITEpedia. The SMITE Pro League Summer Finals are powered by Curse Voice, which is currently available on PC, Mac, Android, and iOS.
---