The Binding of Isaac: Rebirth Wiki app is now available on Google Play and iTunes! The app includes accessible navigation menus and a convenient search bar, so you'll be able to browse the wiki effortlessly on your phone or tablet. With all this information at your fingertips, the Lamb doesn't stand a chance!
The wiki app boasts an organized, functional interface and browse-only design. (If you'd like to edit the wiki, you can visit the BOI:R Wiki in a web browser!) Additionally, you can "favorite" a selection of your most-visited pages for offline use, so you can view game information anytime. All of the knowledge available on the BOI:R Wiki is available in the app, including information on:
Items

Afterbirth Expansion

Trinkets

Cards & Runes

Item Pools

Characters & Bosses

Challenges & Achievements

Seeds

Transformations

And much more!
Ready to have The Binding of Isaac: Rebirth Wiki with you no matter which room you're exploring? You can grab the app now on Google Play and iTunes. If you're interested in contributing your own Binding of Isaac: Rebirth knowledge, visit the BOI:R Wiki on Gamepedia. To stay up-to-date on our newest app releases and other wiki news, make sure to follow Gamepedia on Facebook and Twitter.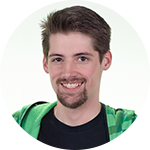 Benjamin Tarsa
Benjamin manages all of the non-wiki content on Gamepedia as well as taking care of community-related concerns and relationships with indie partners. In his spare time he is an avid reader and gamer, and has freakishly flexible thumbs.