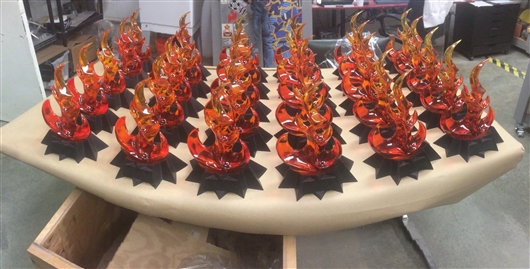 E3 2016 has come and gone, but it has undoubtedly left us all in a whirlwind of hype and wonderment of what's to come. Many amazing titles were announced and shown off this year, and those that we found to be most impressive were given their very own Curse Media Award! Check out what titles made the list this year:


Award

Winner

Friendly Fire

BEST GAME TO MESS WITH YOUR FRIENDS

LawBreakers

NEXON

Arrow to the Knee

MOST BRUTAL ATTACK SEQUENCES

For Honor

UBISOFT

It's Dangerous to Go Alone

BEST CO-OP EXPERIENCE

Tom Clancy's Ghost Recon: Wildlands

UBISOFT

Let's Play Dress Up

COOLEST COSTUMES

South Park: The Fractured But Whole

UBISOFT

We're Not in Kansas Anymore

MOST UNIQUE GAME SETTING

We Happy Few

COMPULSION GAMES

Build an Empire

COOLEST STRATEGY GAME

Civilization 6

2K

Bashing and Brawling

COOLEST PVP GAME

Quake Champions

ID/BETHESDA

Flawless Victory!

MOST LIKELY TO INSPIRE A COMPLETION RUN

Dishonored 2

BETHESDA

It's Super Effective!

BEST TRAILER

Death Stranding

KOJIMA/SONY

Something to Behold

MOST UNIQUE GAMEPLAY

Titanfall 2

EA

All Aces

UBER TCG OF THE YEAR

Gwent

CDPR

Whoa...is this Real Life?!

MOST REALISTIC GRAPHICS

Battlefield 1

EA

So Scary I Wet Myself

SCARIEST MOMENTS IN GAME

Resident Evil 7

CAPCOM

Shut Up and Take My Gold

COOLEST IN-GAME ITEMS

Dead Rising 4

MICROSOFT STUDIOS

Are We There Yet?!

UNRELEASED GAME WE CAN'T WAIT TO PLAY

Sea of Thieves

MICROSOFT STUDIOS

One Man Wolf Pack

COOLEST SINGLE PLAYER EXPERIENCE

Final Fantasy 15

SQUARE ENIX

Stay A While and Listen

MOST ENGAGING NARRATIVE

Deus Ex Mankind Divided

SQUARE ENIX
So, what was your favorite game of E3 this year? Let us know in the comments below, and as always, Enjoy the Game!
---
What to Read Next