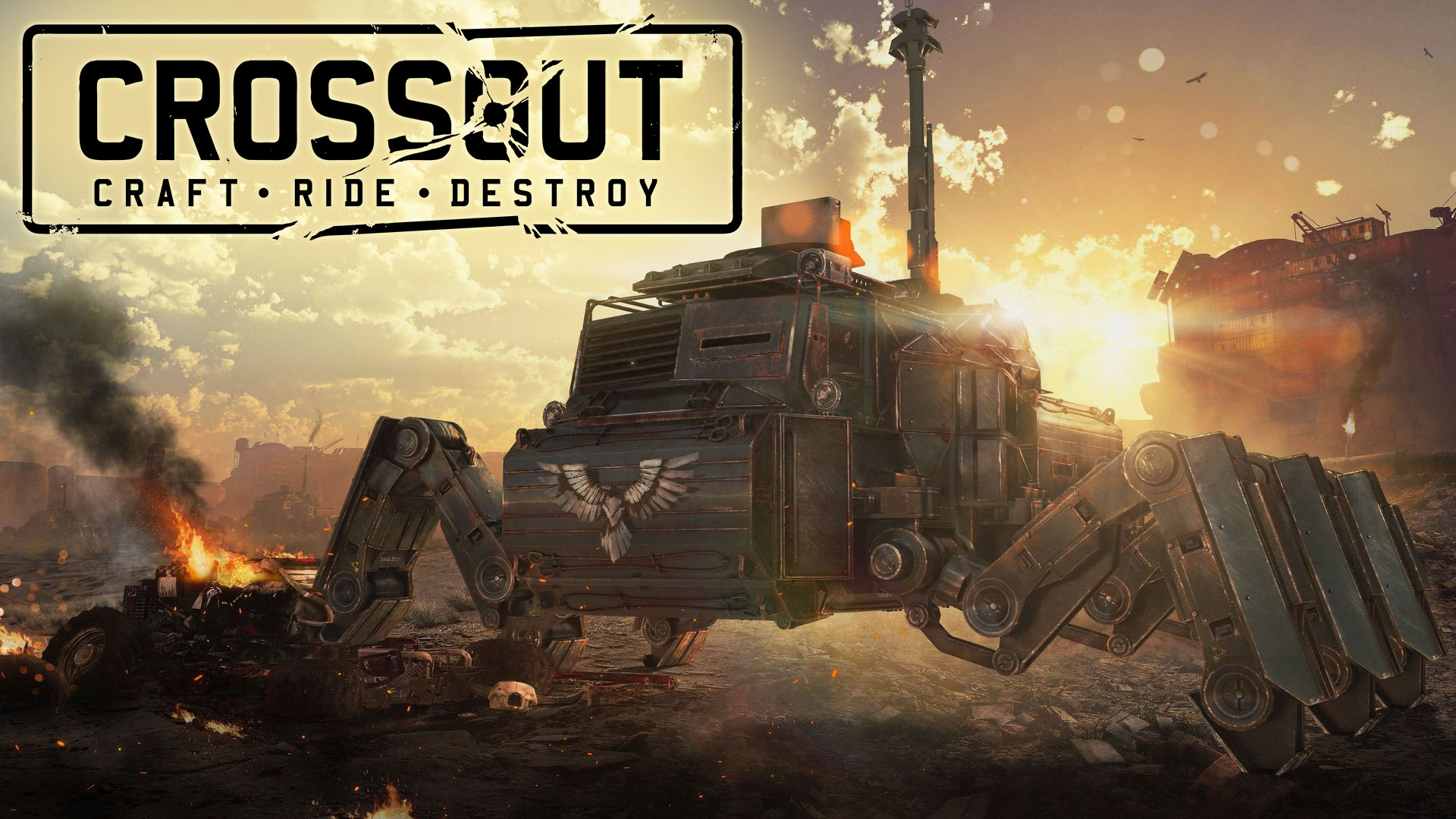 This is a sponsored post for Crossout, from Targem Games and Gaijin Entertainment.
It's the year 2047, and the world as we know it has been decimated into a boundless wasteland by viral epidemics and war. You're a warrior starting a vicious career in a Mad Max-inspired post-apocalyptic society; survival of the fittest is the name of the game. Whoever builds the best toys will be able to destroy the competition and lay claim to treasures buried by time under old civilizations.
If you haven't heard of the game already, you're missing out on an incredible experience with unique game mechanics that really stand out. Intrigued? Read on for our top 5 things that make Crossout a must-play.
---

1. Incredible Creative Freedom
In Crossout, you're only limited by your own imagination. Live out your Mad Max fantasies by engineering and driving unique vehicles for the battlefield. Your machine is crafted from dozens of interchangeable parts, meaning thousands of possible combinations with complete control over shape, drive system, armor, mounted weapons, support systems, and an impressive number of cosmetic options.
Of course, your design has to hold up against other players', and battle can be particularly brutal. The damage model in Crossout considers each part of a vehicle individually, which makes every design choice count. As you fight for victory it's possible that wheels, armor, guns, and other pieces of players' machines will fly off as others damage them, resulting in a graveyard of destroyed vehicles and loose parts.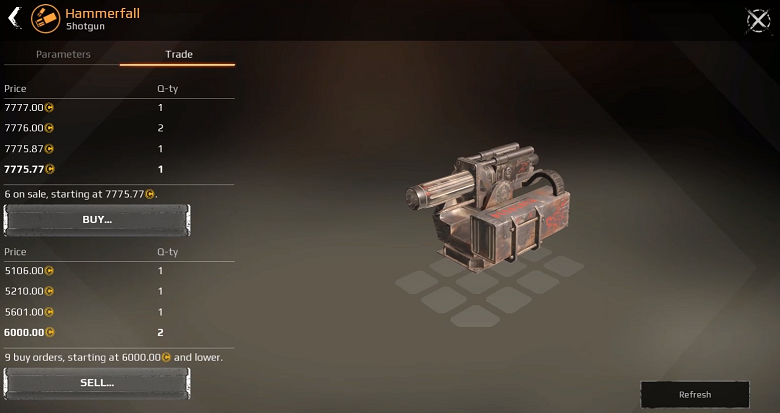 2. Completely Player-Controlled Economy
In your own workshop, you'll be able to create new and advanced parts. Skilled players can bring in loads of profit by auctioning off their loot and crafted goods.
Prices at the in-game marketplace are driven solely by actual players' supply and demand, and nearly everything you obtain can be traded via this system or between players directly. Fighting in Clan Wars will net you unique and valuable resources that you can sell for loads on the market.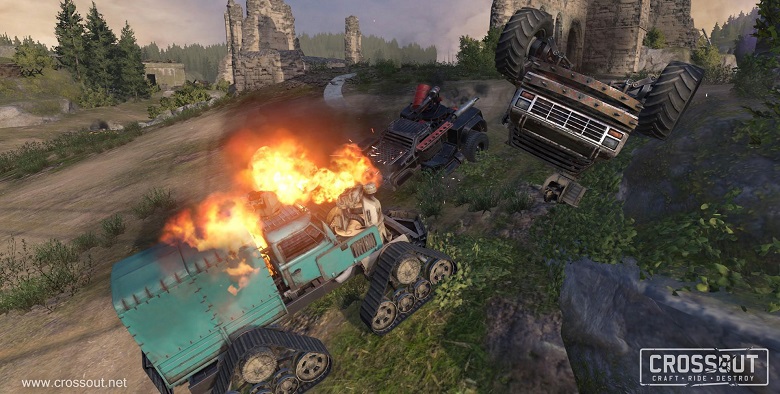 3. Enemies Evolve - Never the Same Battle Twice
Players are matched by similar Power Scores, but you still never know what kind of battle to expect since the game itself has such an incredible amount of customization. Since everyone's designing their own battle-ready vehicle, you'll face new challenges constantly (and occasionally have a good laugh at a ridiculous creation).
You may be able to continually tweak your vehicle, but watch out -- your enemies will be doing just the same! You'll be facing new evolutions of engineering genius every time you enter battle, so to stay competitive you'll have to always be bettering the design of your own ride.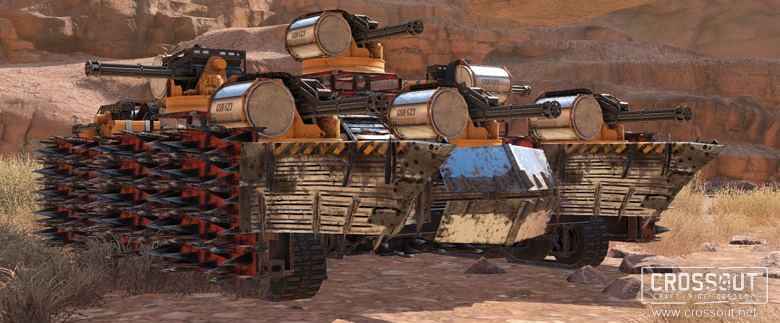 4. Design Your Own Bosses
Probably one of the coolest features of the game has to be the ability to design 'Leviathans'. These massive machines are crafted from your spare parts after level 10. You can't drive them yourself; they fight for you automatically against players in certain PvE modes as a boss enemy!
Earn extra income by defeating players successfully with your designed Leviathan, and try to bring down those crafted by other players for a fun challenge.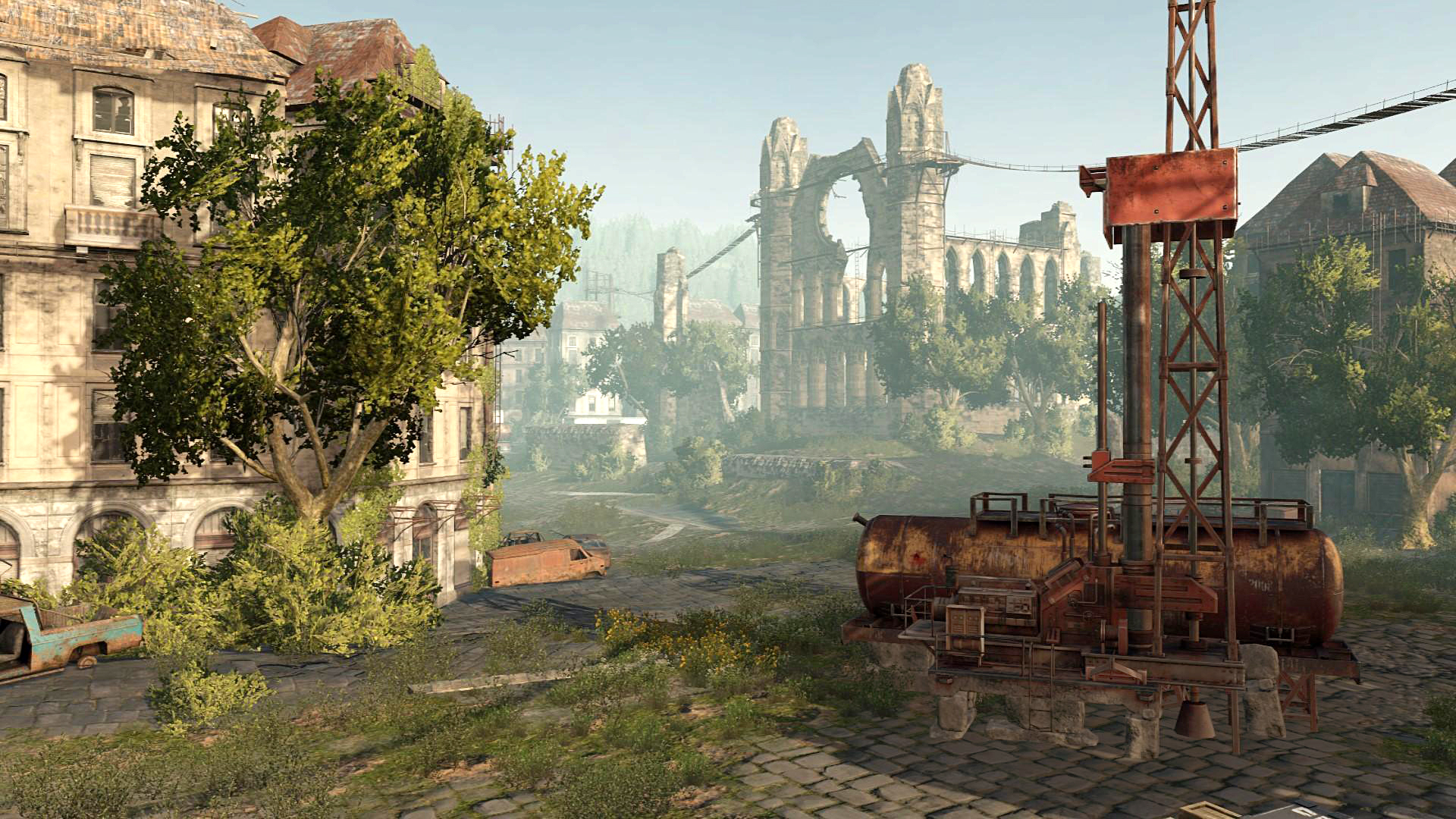 5. Free Across Multiple Platforms, Frequent New Content
Whether you prefer to game on PC or PS4/XB1, you can download Crossout and join millions of players completely for free. There aren't any premium accounts or paid subscriptions, and anything that actually affects gameplay can always be earned without spending money IRL.
The development team has committed to constantly adding new factions, parts, and other content to keep players entertained. In fact, they've recently implemented a large content update. Highlights include:
"Knight Riders" event kicking off, to last until August 14th
Map, "Wrath of Khan" now playable in the "Defense" PvE mode
Earn temporary resource 'Talers' (PvP victories and daily missions), used to purchase 'Steel Cavalry' containers
New dyes (Material: Plate Steel; Teutonic Stripes; Teutonic Eagle; Teutonic Cross) available in the 'Steel Cavalry' containers
New weapons and drone:

Rare Shotgun BG2 'Goblin'
Legendary Cannon BC-17 'Tsunami'
Epic Drone 'Fuze'
Epic Crossbow 'Spike-1'
Ready to check out the newest content? Download and play for free at the official site, where you can also read more details about Crossout Update 0.7.30.
---
What to Read Next