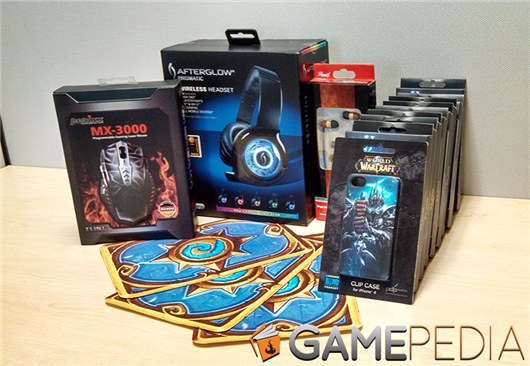 We are beyond excited to be rolling out a new contest, this time, to win a beta key for Hearthstone! Please remember that our contest for 52 weeks of Gamepedia t-shirts is still ongoing. The rules to win a Hearthstone beta key are simple: log in with your Curse account to the Hearthstone Wiki, contribute as an editor and have a chance to win. Each meaningful contribution made by you is a valid entry, so be sure that when you are editing, you are logged in!
But that's not all! We want to reward the community for helping make the Hearthstone Wiki the number one community created resource for Hearthstone information and will be giving out the following prizes:
Grand Prize (3): Hearthstone Beta Key + Blizzard iPhone 4/4S Cell Phone Case
1st Prize (1): Afterglow Prismatic Wireless Headset
2nd Prize (1): Perixx MX-3000 Programmable Gaming Laser Mouse
3rd Prize (1): Rosewill High Fidelity Passive Noise Isolating Rosewood Earbud Headphones
Runners up (8): Blizzard iPhone 4/4S Cell Phone Case
Beta keys will be available for community members everywhere, regardless of location! Due to legal restrictions, however, physical prizes are eligible for U.S. and Canadian residents only.
Interested in participating, but not sure where to start? See the Hearthstone Wiki or Gamepedia help pages for information regarding contributing! Once you've started, if you find yourself having issues and need additional help, Gamepedia staff and community members may be found in our IRC channels. Each wiki also has a Community Discussion page for community members to interact with each other! Remember, you will need a Curse account to participate, which is free!
For additional information, please see the official contest page, written by Gamepedia Community Manager Benjamin Tarsa. Official rules may be found here. Keep up on the latest Hearthstone news from Hearthpwn - our Curse sister site. Sign up, contribute to the wiki, and best of luck winning some sweet Hearthstone loot!